19% of adults are estimated to have had an anxiety disorder in the past year.
The GAD-7 (anxiety) and PHQ-9 (depression disorders) are some of the gold standard techniques that are used to measure and classify these conditions.
The PHQ-9 is a nine-item screening questionnaire used to measure depression. The questionnaire has a maximum score of 27, with higher scores indicating the severity of depression.
The GAD-7 is a screening questionnaire for generalized anxiety disorder. The questionnaire has a maximum score of 21 with higher scores indicating the severity of anxiety.
Anxiety & Depression Disorders:
Measurement Methods
There are different types of anxiety and depression disorders, including:

​

generalized anxiety disorder, p

anic disorder, p

ersistent depressive disorder, s

easonal affective disorder, psy

chotic depression, p

ostpartum depression, and various other phobia-related disorders.
Data-Driven Combination Therapy
We found that patients who used Wellnite's services lowered their GAD-7 and PHQ-9 scores overall. This descriptive analysis demonstrates that Wellnite is providing efficacious mental health services. This data will help us improve out pharmacological and non-pharmacological services to better tailor treatment to our users.
Read the full descriptive analysis

here

.
Upon enrollment, patients had an average PHQ-9 score of 16, indicating moderately severe depression.
For the GAD-7, the average score was 14, indicating severe anxiety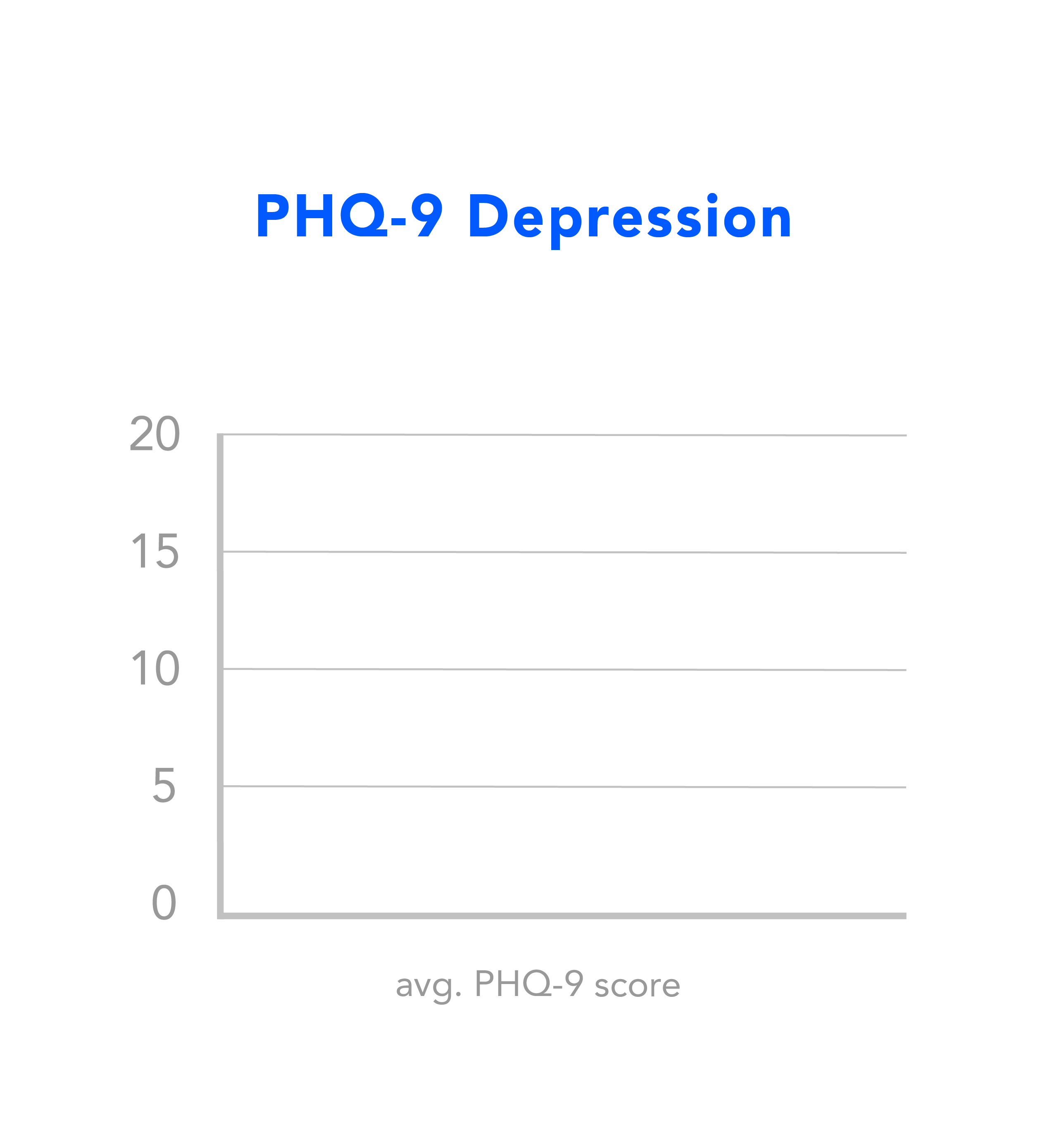 Patients that used the chat based feature saw a 33% decrease in their depression score compared to those who did not.
Not all medications work the same for everyone.
Patients who changed medications with Wellnite saw a ~30% decrease in PHQ-9 and GAD-7 scores compared to those who did not.
Both average PHQ-9 and GAD-7 scores decreased during Wellnite use.
At enrollment, the cohort's depression and anxiety were classified as moderately severe and moderate, respectively, according to initial average PHQ-9 and GAD-7 scores. At the end of the follow-up period, average depression and anxiety scores were classified as mild.
While the PHQ-9 and GAD-7 are not diagnostic tests, reduction in scores through the use of Wellnite shows promise in our service's ability to ameliorate depressive and anxiety symptoms.
The nation's most affordable treatment for
depression and anxiety
We believe that people who struggle with these conditions already go through enough. No one needs the extra challenge of facing off with our complex healthcare system.
If you are in emotional distress, here are some resources for immediate help:
National Suicide Prevention Hotline:
If you're having a medical or mental health emergency
Call 911 or go to your local ER
© Copyright Wellnite, Inc 2020